Reparación de daños por inundación para dispositivos electrónicos dañados por el agua
Los equipos electrónicos, eléctricos y de telecomunicaciones pueden recuperarse de daños catastróficos causados por huracanes, inundaciones, supresión de incendios y otras situaciones graves en donde el agua causa impacto. El agua se puede eliminar al utilizar soluciones de limpieza y procesos que se dirigen al agua y a la humedad atrapada. Una vez que se elimina la humedad, los ensamblajes se pueden limpiar para eliminar el aceite y la grasa depositados, el hollín, los desechos y otra suciedad. Si bien el agua puede causar daños extensos, no significa que el equipo se haya perdido y que no se pueda reponer. Cuando se utilizan con los siguientes procedimientos, los productos de Chemtronics son una herramienta eficiente y efectiva para la recuperación y restauración de equipos electrónicos, eléctricos y de telecomunicaciones.
Filtrar por atributos
Application
Attributes
Cleanroom
Connector Type
Energized Circuits / Nonflammable
FO Applications
Handle Attributes
Head Attributes
Head Material
Invertible
Material
Plastic Sensitivity
(radio.notice)
Product Type
Soil Type / Application
Solvent Compatibility
Spray Force
Environmental - Safety
Flux Type
Cleaning Method
---
Artículos
---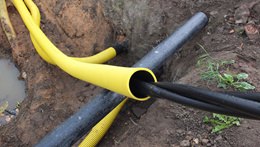 Essential Guide to Cable Cleaning
Running cable can be a messy business, so cleaning is an important consideration for both high voltage and communication cable installations. When the failure point can be in a wall, underground, or hundreds of feet underwater, a high quality installation is particularly important. What follows are ...
Leer Esta Publicacion