Solvente y limpiador de hinchazón no inflamable Coventry™ 12857
3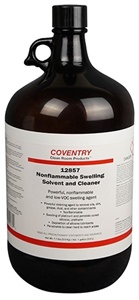 Pedir una prueba
Tu pedido de prueba
Solvente y limpiador de hinchazón no inflamable Coventry™ 12857
*=campo obligatorio
Solvente y limpiador de hinchazón no inflamable Coventry™ 12857
Coventry™ 12857 Nonflammable Swelling Solvent and Cleaner is a low-VOC, nonflammable solution developed for safely swelling silicone near sensitive plastics. It is also effective at quickly removing oils, dirt, dust, and other contaminants from hybrid surfaces and assemblies. This high-purity solvent was developed for swelling silicone elastomers and tubing for fitment onto components while in proximity to titanium, PEEK and stainless materials without harming any of the materials. The solvent then evaporates allowing the elastomer to shrink back to its original dimensions. Utilizing novel VOC replacement chemistry that does not contain any hazardous air pollutants or ozone-depleting compounds, this material provides the swelling and cleaning strength required for the most difficult jobs.
Coventry™ 12857 Nonflammable Swelling Solvent and Cleaner is used to clean and prepare a variety of surfaces within critical environments:
• Swelling elastomers
• Carrier fluid for depositing silicone lubricants
• Cleaning
• Extraction
• Drying agent
Hinchazón de platino y silicona curada con peróxido, uretano 
Seguro y no corrosivo en plásticos sensibles, titanio, PEEK y materiales de acero inoxidable 
Potente agente de limpieza para eliminar aceites, suciedad, grasa, polvo y otros contaminantes
No inflamable
Penetra para limpiar las áreas difíciles de alcanzar
Se evapora rápidamente y no deja residuos, minimiza el tiempo de proceso
Pedido de un distribuidor autorizado
FAQ's
¿Cómo puedo calcular la vida útil de un producto?
Para saber la vida útil de un producto, puede consultar la hoja de datos técnicos (TDS), que se encuentra en la página del producto, o bien el certificado de conformidad (COC). Para descargar el COC, vaya a https://www.chemtronics.com/coc. Una vez que tenga la vida útil, tendrá que añadirla a la fecha de fabricación para fijar una fecha de caducidad. La fecha de fabricación puede ser identificada por el número de lote. En la mayoría de nuestros productos, el código de lote es una fecha de fabricación en formato de fecha juliana. El formato es YYDDD, donde YY = año, DDD = día. Por ejemplo, 19200 se traduce en el día 200 de 2019, o 19 de julio de 2019. Esta página web ofrece una explicación detallada y gráficos para ayudar a interpretar nuestros números de lote: https://www.chemtronics.com/batch-codes.
Artículos