Desengrasante de vapor de precisión Coventry™ 12851
2
Pedir una prueba
Tu pedido de prueba
Desengrasante de vapor de precisión Coventry™ 12851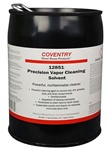 *=campo obligatorio
Desengrasante de vapor de precisión Coventry™ 12851
Engineered for effective vapor degreasing, ultrasonic cleaning, and immersion cleaning.
Coventry™ 12851 Precision Vapor Degreaser is a nonflammable solution engineered for demanding vapor degreasing applications and other precision cleaning applications. It quickly removes machining fluids and oils, particulates, debris, lubricants, and other contaminants from metal, ceramic surfaces, electronic components, medical devices, and much more.
This near azeotrope was formulated to provide superior nonflammable cleaning in vapor cleaning applications, while still offering high soil loading potential and fast throughput. Utilizing novel replacement chemistry that does not contain any hazardous air pollutants or ozone-depleting compounds, this material provides the high cleaning strength required for the most difficult jobs.
Potente agente de limpiezaa g>fluidos de mecanizado y aceites, suciedad, grasa , polvo y otros contaminantes 
No inflamable
Penetra para limpiar las áreas difíciles de alcanzar
Se evapora rápidamente y no deja residuos, minimiza el tiempo de proceso 
No corrosivo, seguro en metales sensibles
Pedido de un distribuidor autorizado
FAQ's
¿Cómo puedo calcular la vida útil de un producto?
Para saber la vida útil de un producto, puede consultar la hoja de datos técnicos (TDS), que se encuentra en la página del producto, o bien el certificado de conformidad (COC). Para descargar el COC, vaya a https://www.chemtronics.com/coc. Una vez que tenga la vida útil, tendrá que añadirla a la fecha de fabricación para fijar una fecha de caducidad. La fecha de fabricación puede ser identificada por el número de lote. En la mayoría de nuestros productos, el código de lote es una fecha de fabricación en formato de fecha juliana. El formato es YYDDD, donde YY = año, DDD = día. Por ejemplo, 19200 se traduce en el día 200 de 2019, o 19 de julio de 2019. Esta página web ofrece una explicación detallada y gráficos para ayudar a interpretar nuestros números de lote: https://www.chemtronics.com/batch-codes.